Offering the Finest in Cowboy Action Shooting and Old West Holsters
J. M. Ross
Maker
Bulls Gap, Tennessee

Effective August 9, 2018, we are settled in Bulls Gap, Tennessee. There have been changes in our travel schedule and we will be committing extra time to our pending orders. We appreciate the support we have received from our customers during our transition and look forward to our future in Tennessee.
Click on the Thumbnails below to take you to their pages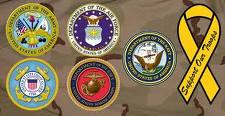 JM Leather salutes all active, disabled and retired servicemen and women as well as our Veterans from all the Armed Forces. We thank you for your sacrifice in defense of our country. Your daily efforts assure us the freedom we enjoy each and everyday.
You are always in our thoughts and prayers.