Western Holsters
Cowboy Comp
Nonstop Express
Doc Holliday
Trooper
Cheyenne
Ranger
Cheyenne Ranger

Gunfighter
Wild Bunch Holsters
WB I
WB II
Patton
WB III
WB SSS
Belts
Ranger
Scout
Canvas
Expedition
All-in-One
Casual & Work
Belts
♠♠♠♠♥♥♥♥♣♣♣♣♦♦♦♦
JM Leather
Click on the Thumbnails below to take you to their pages

Premium cowboy shooting gear made in Alvin, Texas
We are backlogged with pending orders and are making every effort to take care of existing orders and improve our turn-around time. We can accept new orders, but they will be in line after existing orders and may take a few months to be completed. We had not expected the increase in orders this past few months and are having to adjust to the demand. Thank you for your understanding.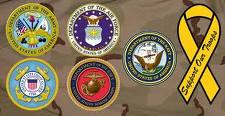 JM Leather salutes all active, disabled and retired servicemen and women as well as our Veterans from all the Armed Forces. We thank you for your sacrifice in defense of our country. Your daily efforts assure us the freedom we enjoy each and everyday.
You are in our thoughts and prayers.
Mailing Address:
J M Leather
P. O. Box 2061
Alvin, Texas 77511