Offering the Finest in Cowboy Action Shooting and Old West Holsters
J. M. Ross
Maker
Hayesville, NC

Effective to July 20, 2018, we are relocating and moving our home and workshop to Tennessee. There has been an unexpected change in our schedule and we will be delayed on some of our pending work as we work around this move. We want to thank all our customers for their continued support and understanding as we move to our permanent location. We will still be working, but in a limited capacity, as the move is short and things should be at a normal pace by Late July.
Click on the Thumbnails below to take you to their pages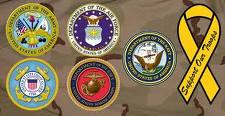 JM Leather salutes all active, disabled and retired servicemen and women as well as our Veterans from all the Armed Forces. We thank you for your sacrifice in defense of our country. Your daily efforts assure us the freedom we enjoy each and everyday.
You are always in our thoughts and prayers.