Offering the Finest in Cowboy Action Shooting and Old West Holsters
J. M. Ross
Maker
Bulls Gap, Tennessee

We currently are not accepting new orders until November 1, 2018. We have relocated to Bulls Gap, Tennessee and inquiries for orders can be made and placed on a waiting list until we can complete previous work that has been delayed by our move. We will not be attending previously scheduled events during this time to reduce our current demand.
Click on the Thumbnails below to take you to their pages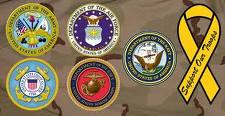 JM Leather salutes all active, disabled and retired servicemen and women as well as our Veterans from all the Armed Forces. We thank you for your sacrifice in defense of our country. Your daily efforts assure us the freedom we enjoy each and everyday.
You are always in our thoughts and prayers.